Embassy of Liechtenstein e-Newsletter, Spring 2017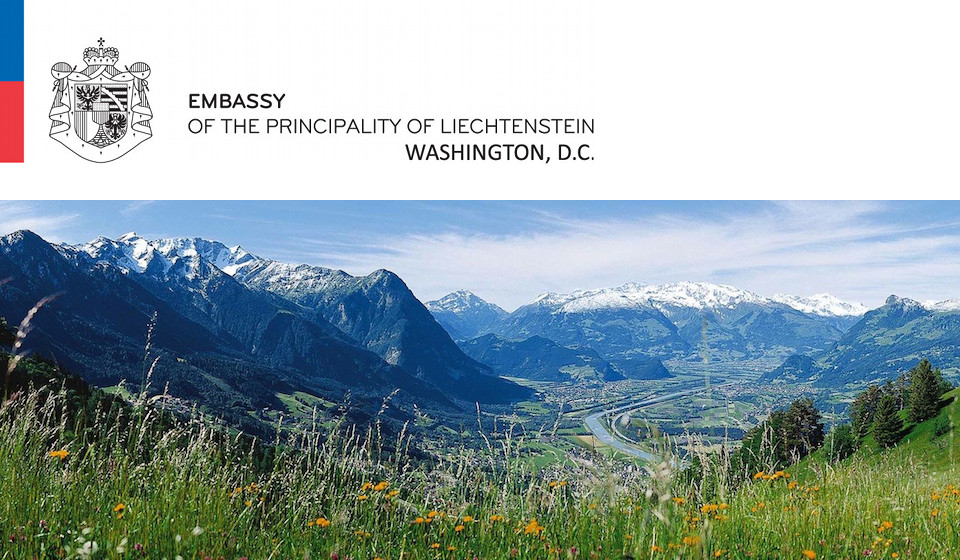 | | |
| --- | --- |
| Embassy of Liechtenstein e-Newsletter | Spring 2017 |
Liechtensteiners Vote for New Parliament, New Cabinet of Ministers Selected

On Sunday, February 5, Liechtensteiners went to the polls to elect a new Landtag (Liechtenstein's parliament). Altogether, four parties presented 71 candidates for the Landtag's 25 seats. Collecting 35.2% of the votes, and therefore 9 seats, the Progressive Citizen's Party (Fortschrittliche Bürgerpartei, FBP) of current Prime Minister Adrian Hasler defended its position as the favored...





Ambassador Jaeger Visits Atlanta and Boston

As part of Liechtenstein's wider outreach and engagement throughout the US, Ambassador Kurt Jaeger visited Georgia and Massachusetts in February and April. February 23-24 Ambassador Jaeger was in Macon and Atlanta. The visit was organized by Liechtenstein's Honorary Consul to the South and Southeastern US, Dr. Bruce Allen. Ambassador Jaeger presents a gift to Macon Mayor Robert...





Law Students from the University of Liechtenstein Visit Washington

March 16-17 a group of students from the University of Liechtenstein visited Washington to learn more about the US judicial system. The students, who focus their legal studies on company, foundation and trust law, were given insights into US federal, congressional and private law. Students at the US Capitol Building. Their visit began with a discussion on US-European relations...





Jonathan Huston Reads from His Works in Washington

February 7-8 author Jonathan Huston visited Washington where he held two readings from recent works. The first reading was at Georgetown University's department of German Studies and the second at the German American Heritage Foundation of the USA. Jonathan Huston presents at the German American Heritage Foundation of the USA. Huston, a bilingual writer in German and English,...





Art Exhibition on Emigration to America Opens in Vaduz

On March 8 th , the Office of Culture in Liechtenstein opened an art exhibition in the National Archives building titled "Some Dreamers of the Golden Dream," which explores themes of Liechtenstein emigration to America. Liechtenstein artist Anna Hilti crafted the pieces on display by using emigration records from the Naitonal Archives and interpreting them visually. From "Some...





Liechtenstein's Tina Weirather Wins Skiing World Cup Title

Born and raised in Liechtenstein, Tina Weirather won the 2016-17 Alpine Skiing World Cup in the super-G for her home country, securing the title with a flawless performance in Aspen, Colorado on March 16. The World Cup season usually lasts from late October to March, and classifies skiers in five events, as well as an overall championship. The super-G (or super giant slalom) involves...





Liechtenstein's Demmel Coffee Expands to the US

Surrounded by the traditional Viennese coffee house culture to its east, as well as the heritage of fragrant Italian espressos to its south, it is no surprise that Liechtenstein is home to a rich landscape of cafes and coffee roasters. Chief among these is Demmel Kaffee in Schaan, which roasts its own beans daily and offers six varieties in its inviting café. Peter Demmel. ...





Liechtenstein for Hikers

Nestled on the banks of the Rhine and high in the Alps, Liechtenstein offers hiking experiences for all ages and skill sets. Featuring 250 miles of maintained trails, alpine views, crystal clear brooks, and blooming meadows come standard in Liechtenstein. There are nearly a dozen different trails to choose from, ranging from gentle walks along the banks of the Rhine to challenging climbs in...




Forward to a friend

Copyright © 2017 Embassy of Liechtenstein

Click here to unsubscribe