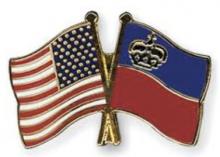 Since opening its embassy in 2002, Liechtenstein has sought to develop an active and engaged relationship with the United States at all levels, be they economic, political, cultural or academic.
Economic
As an export-oriented economy, the largest contributor to Liechtenstein's economy is its manufacturing sector. Industry accounts for 41.6% of the gross national product (GNP).
The U.S. is Liechtenstein's largest overseas trading partner. Liechtenstein annually exports goods worth over half a billion dollars to the U.S. Liechtenstein's direct goods exports to the US in 2018 amounted to more than $530 million, which represented about 14% of Liechtenstein's total direct exports. This means that the value of exports to the USA per year amounts to nearly $14,000 per inhabitant in Liechtenstein.
Liechtenstein's foreign direct investment (FDI) in the US in 2016 was $850 million, which represents about $22,500 per inhabitant in Liechtenstein. FDI of the U.S. in Liechtenstein amounted to roughly $300 million in the same year. Eight Liechtenstein companies provide nearly 4500 jobs in the U.S., a number Liechtenstein is quite proud of given its population of roughly 40,000.
Liechtenstein companies play key roles in the supply chain of goods in specific U.S. sectors such as construction, automotive, dentistry, agriculture, audio-visual and coating.
Did you know that steering components found in Chryslers, Fords and Teslas produced in the U.S. are made by the Liechtenstein company ThyssenKrupp Presta with operations in Terre Haute, IN and Danville, IL?
Founded in 1941 in Schaan, Liechtenstein, HILTI is a global industry leader in the manufacturing of precision tools. The company's tools are used commercially and privately throughout the U.S., with its North American headquarters based in Dallas, Texas.
Ivoclar Vivadent, with operations in Amherst, NY, is one of the top global producers of dental products many of which are used by dentists across America.
Many of the microphones and audio devices used by the United States Congress, top musicians and businesses consist of components manufactured by the Liechtenstein company Neutrik.
Partnering to Fight Financial Crimes
At the political level, Liechtenstein has made partnering with the U.S. government on issues related to combating financial crimes a top priority. This partnership includes the fight against terrorist financing, money-laundering, white-collar crimes as well as tax fraud and tax evasion.
Liechtenstein has worked closely with the U.S. government – including the Office of Foreign Asset Control (OFAC) and the Financial Crimes Enforcement Network (FinCEN) – to combat terrorist-financing networks.
With regard to sharing information related to specific cases of financial crimes, Liechtenstein has signed three agreements with the U.S. to address these issues.
Mutual Legal Assistance Treaty
In 2002, Liechtenstein and the U.S. signed a Mutual Legal Assistance Treaty (MLAT), which facilitates the sharing of information between the U.S. Department of Justice and Liechtenstein's Ministry of Justice. Pursuant to that agreement, the two countries have worked together on a variety of cases including corruption, financial crime cases and the forfeiture of substantial assets.
Tax Information Exchange Agreement
Following two years of comprehensive negotiations, a Tax Information Exchange Agreement (TIEA) between Liechtenstein and the United States was signed on December 8, 2008, based on the U.S. Treasury Department's model TIEA text. The Agreement calls for full implementation, including necessary amendments to Liechtenstein law, which were adopted at the end of 2009. The Liechtenstein-U.S. TIEA entered into force on January 1, 2010. The TIEA allows for Liechtenstein and the United States to work closely together on a full range of tax issues, including tax fraud and tax evasion. The TIEA provides for information exchange upon request and direct cooperation between the two countries' tax and judicial authorities.
Foreign Account Tax Compliance Act
In May of 2014 Liechtenstein and the United States signed an agreement to implement the provisions of the Foreign Account Tax Compliance Act (FATCA). With FATCA, the U.S. is aiming to ensure that all accounts of individuals who are taxable in the U.S. which are held abroad are reported. FATCA is a unilateral U.S. legislation with worldwide applicability. Foreign Financial Institutions are obliged to pass information on U.S. accounts to the U.S. Tax Authorities (Internal Revenue Services, IRS) or be subject to a substantial withholding penalty.
Honorary Consulates
Starting in 2007, the Principality of Liechtenstein decided to establish a network of Honorary Consulates in the United States. These Honorary Consulates focus on raising awareness about Liechtenstein and growing the Embassy's outreach and cooperation at the local and regional levels. They also serve as points to inform and educate the Liechtenstein Government about the many diverse areas and people of the U.S.
Academia
The University of Liechtenstein offers a number of degrees in the areas of business administration, finance and architecture. The university accepts international students and is always looking to develop and enhance its exchange programs with other universities.
The Liechtenstein Institute on Self-Determination at Princeton University's Woodrow Wilson School of Public and International Affairs supports teaching, research, and publication about issues related to and emerging from self-determination, especially pertaining to the state, self-governance, sovereignty, security, and boundaries with particular consideration of socio-cultural, ethnic, and religious issues involving state and non-state actors. The Institute was founded in 2000 through the generosity of H.S.H. Prince Hans Adam II of Liechtenstein, and is directed by Wolfgang Danspeckgruber, Lecturer in Public and International Affairs at the Woodrow Wilson School.