From April 1-9 five students from the Liechtenstein International Academy of Music spent time in Washington, DC. The students came upon invitation by the Ryuji Ueno Foundation and took part in the organization's Washington Semester Leadership Program. The students participated in lectures, coaching sessions and also visited Shenandoah University where they were able to meet and interact with other advanced students of music.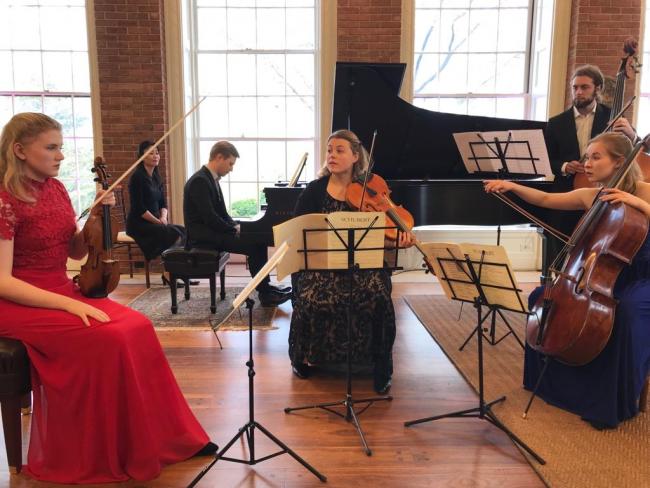 Participating musicians from the Liechtenstein International Academy of Music were Charlotte Spruit (violin), Dmytro Choni (piano), Beata Antikainen (cello), Karolina Errera (viola), and Jura Herceg (double bass).
Highlights of the visit were of two performances: The first tool place at the historical "Evermay" in Georgetown before an audience of 75 invited guests. The second performance was at the Kennedy Center Millennium Stage where they performed in front of a large general audience in celebration of Liechtenstein's 300th anniversary in 2019. At both concerts they performed works by Liechtenstein's most famous composer, Josef Gabriel Rheinberger, as well as Franz Schubert.
The guiding theme of the International Academy of Music in Liechtenstein is to support highly talented young musicians between 10 and 25 years of age. More specifically, its internationally renowned teachers/artists annually provide them with intensive one-on-one instructions of one week each per instrument. Thereby, the students are comprehensively prepared for admission to one of the best conservatories worldwide and for the beginning of a rewarding career. Rather than focusing solely on music training, the academy offers holistic instruction to assist students in handling the many areas of entering the performing arts market such as emotional and physical balance, media relations, handling the audience and creating ensembles, among other areas.