On December 10 and 11 a delegation representing the Liechtenstein Chamber of Commerce and Industry (LCCI) visited Washington to highlight Liechtenstein economic footprint in the United States. The group consisted of Klaus Risch, LCCI President and Trustee of the Martin Hilti Family Trust which owns the Hilti Corporation; H.S.H. Prince Max of Liechtenstein, CEO of LGT Bank; Bob Ganley, Board Member and former CEO of Ivoclar Vivadent; and Brigitte Haas, LCCI General Manager. The group was accompanied by Kurt Jaeger, Ambassador of Liechtenstein to the United States.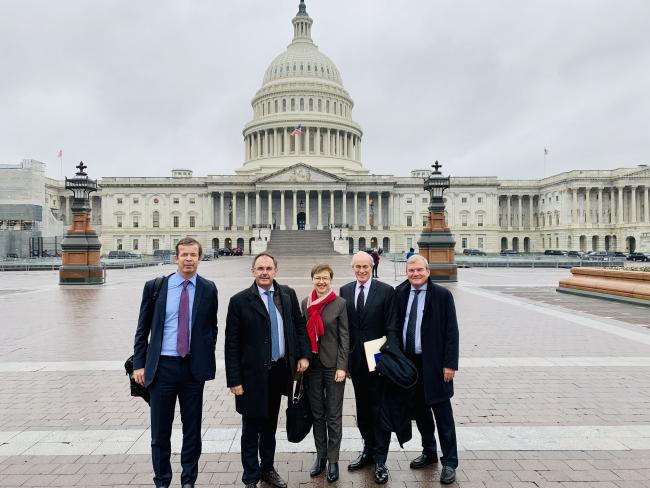 The US is Liechtenstein's second largest trading partner after Germany. Six major Liechtenstein companies and one bank operate in the US, employing more than 4,400 people. Against the country's population of only about 38,000, this is a significant number, representing the equivalent of about 11% of Liechtenstein's population.The US is a vital trading partner for Liechtenstein. Liechtenstein's foreign direct investment (FDI) in the US in 2016 was $850 million, which represents about $22,500 per person in Liechtenstein. Liechtenstein's direct goods exports to the US in 2018 amounted to more than $530 million, which represented about 14 % of Liechtenstein's total direct exports. This means that the value of exports to the USA per year amounts to nearly $14,000 per person in Liechtenstein.
The group's first day included meetings with various Members of Congress including many with Liechtenstein businesses in their districts. This included Congressman Brian Higgins of New York whose district is home to the North American headquarters of Ivoclar Vivadent, one of the world's leading manufacturers of innovative material systems for high-quality dental applications and a global leader in the manufacturing of ceramic teeth and prostheses. Higgin's district is also home to locations of Hilti, a global leader in providing technology-leading products, systems and services to the worldwide construction industry, as well as Oerlikon Balzers, a global leading supplier of coating technologies that significantly improve the durability and performance of precision components and tools.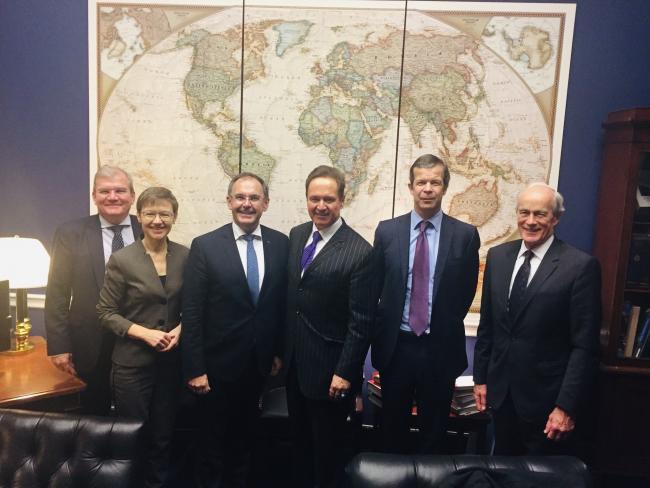 The delegation also met with Congressman David Schweikert of Arizona who has been a leading proponent on Capitol Hill for the regulation of blockchain technologies. The group was able to discuss with him what Liechtenstein has done in this industry including its Parliament's recent passage of a Blockchain Act. They also met with Congressman Don Beyer of Virginia. From 2009-2013 Beyer was US Ambassador to Liechtenstein and Switzerland and now serves as Co-Chair of the Congressional Friends of Liechtenstein Caucus. The LCCI representatives also met with staff from Congresswoman Carolyn Maloney, whose district is home to LGT Capital Partners. Among other areas, the group discussed the Liechtenstein Initiative - Finance Against Slavery and Trafficking (FAST), which aims to mobilize the financial sector to combat human trafficking and modern slavery.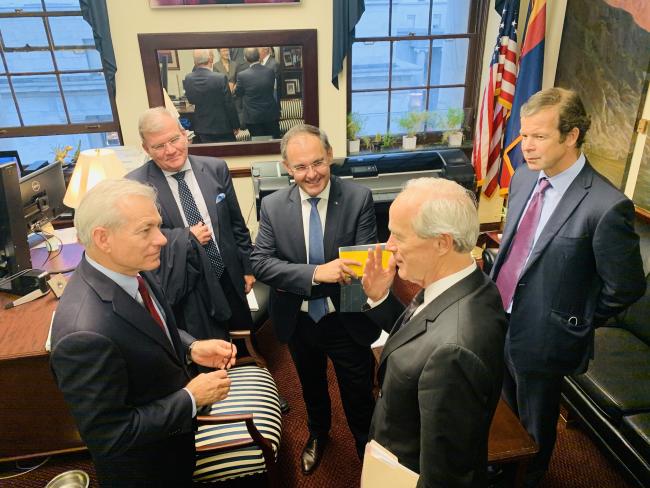 The business representatives also met with senior staff of Senator Chuck Schumer of New York. Two of the company representatives, namely H.S.H. Prince of Liechtenstein of LGT Bank, and Bob Ganley of Ivoclar Vivadent, have their US headquarters based in the state of New York. The group presented Liechtenstein's interest in concluding a tax treaty with the US, which through the reciprocal lowering of corporate taxes in both countries, would create enhanced avenues for investment and job growth for Liechtenstein companies in the US. Liechtenstein companies play key roles in the supply chain of goods in specific US sectors such as construction, automotive, dentistry, agriculture, audio-visual and coating.
The group also met with Daniel Mullaney, Assistant US Trade Representative for Europe and the Middle East. They discussed with him the state of transatlantic trade as well as the progress and outlook of US trade negotiations.