On September 26 and 27 H.S.H. Hereditary Prince Alois of Liechtenstein visited Washington, DC. The visit served as an opportunity to promote Liechtenstein's international initiatives, its unique integration with the European Union, while also celebrating strong Liechtenstein-US relations during Liechtenstein's tricentennial year.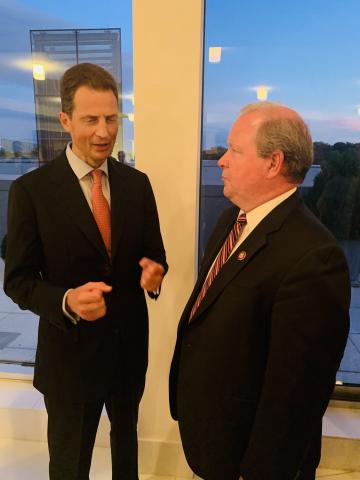 While in Washington Hereditary Prince Alois met with Co-Chairs of the Congressional Friends of Liechtenstein Caucus including Rep. Don Beyer, Rep. Larry Bucshon, Rep. Dan Kildee, and Rep. Jim Sensenbrenner. He thanked them for their many years of support in fostering greater awareness of Liechtenstein on Capitol Hill.
Hereditary Prince Alois also visited the Smithsonian National Gallery of Art. There he toured various exhibits as well as viewed Leonardo Da Vinci's "Ginevra de' Benci," the only work by Da Vinci on permanent display in the US, which was acquired from the art collection of the Princely House of Liechtenstein. In June of 2021 artwork from the Princely House of Liechtenstein will be on display at the Smithsonian National Gallery of Art in an exhibit called: The Princely Collections, Liechtenstein: Five Centuries of European Painting and Sculpture. Washington, DC will be the last city of the traveling exhibition beginning in 2020 which will feature the artwork in Ottawa, Seattle and Fort Worth.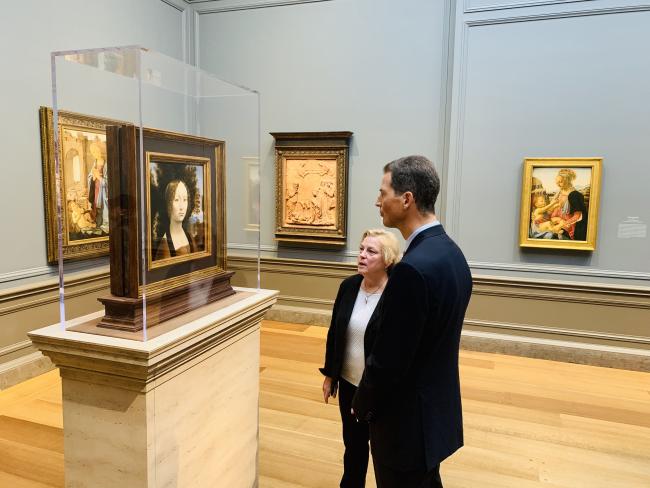 Hereditary Prince Alois also welcomed guests at a reception hosted by Ambassador Kurt Jaeger at his residence in celebration of Liechtenstein's 300th anniversary. Guests included a broad cross-section of people from politics, business, academia, non-profit organizations, and the arts. Hereditary Prince Alois spoke about his time interning as a young man in the US Senate, as well as the mutual interests of both countries in promoting democracy and the international rule of law.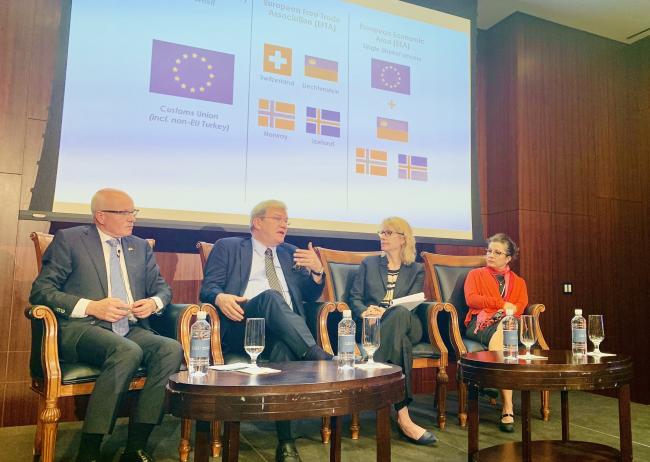 Hereditary Prince Alois also participated in a discussion hosted by the Center for Strategic and International Studies (CSIS) titled: "The European Economic Area (EEA) and the European Free Trade Association (EFTA) - A Different Approach to Trade and a Possible Post-Brexit Path?" Liechtenstein is not a member of the European Union, but as a member of the EEA (all EU members plus Iceland, Liechtenstein and Norway) Liechtenstein is a full participant in the EU Single Market. EFTA, which consists of Iceland, Liechtenstein, Norway and Switzerland, is a trade bloc with 29 free trade agreements covering 40 countries and territories outside of the EU. Hereditary Prince Alois discussed Liechtenstein's experience as a non-EU country located in the heart of Europe, which has taken on its own unique path towards European integration. Later, Ambassador Kurt Jaeger participated in a panel discussion on European integration along with Dirk Wouters, Ambassador of Belgium to the US, and and Beth Balzan, Fellow at the Open Markets Institute. View the discussion here: