Thursday, December 1, 2022
From 13 to 18 November, Liechtenstein's Minister of Foreign Affairs, Education and Sports, Dominique Hasler, traveled to the United States.
In Washington, DC, Foreign Minister Hasler met with US Deputy Secretary of State Wendy Sherman for bilateral discussions. Since their last exchange on the eve of Russia's illegal war of aggression against Ukraine, relations between Liechtenstein and the US have continued to deepen. The joint commitment to freedom, democracy and the rule of law, the substantial economic relations, as well as the intensive cooperation in the field of justice and the implementation of sanctions, are important pillars of the Liechtenstein-US partnership.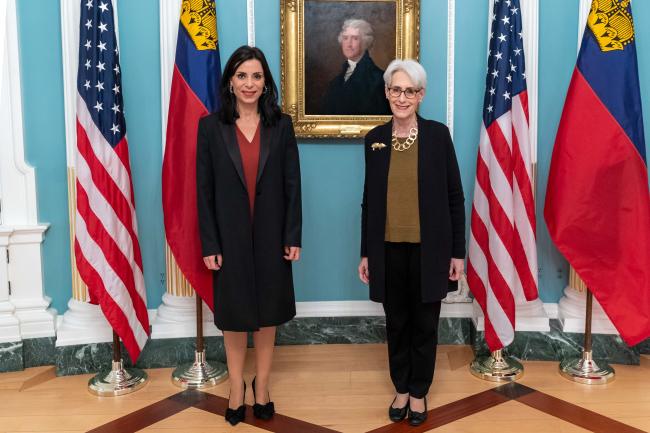 The ministerial meeting also provided an opportunity to address ways to further develop economic relations. Liechtenstein companies have recently continued to expand and invest in the US, providing about 5,000 American jobs. Therefore, the two Ministers discussed Liechtenstein's role in transatlantic commerce as a key supplier to the US of manufactured goods in sectors such as automotive, construction, medical and audio-visual. They also discussed measures in the area of taxation to further increase Liechtenstein investment and job growth in the US while benefiting American businesses who wish to expand to Europe through Liechtenstein's unique business location. Foreign Minister Hasler also emphasized this in her talks with Senator Jim Risch, the Ranking Republican on the US Senate Foreign Relations Committee, as well as in a meeting with Senator Roger Wicker.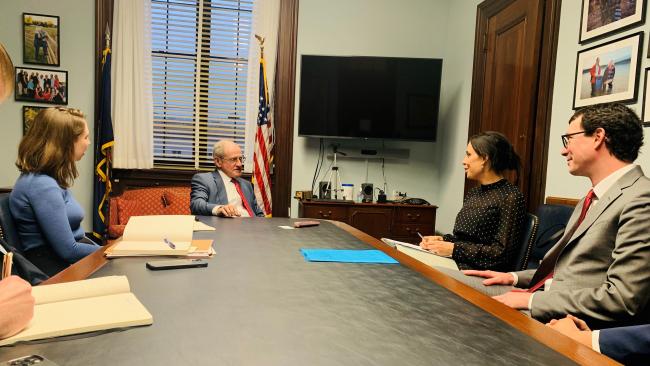 In addition, Foreign Minister Hasler met with H.E. Luis Almagro, Secretary General of the Organization of American States (OAS), to discuss current developments in Latin America and Liechtenstein's upcoming Presidency of the Ministerial Committee of the Council of Europe. Liechtenstein has been a Permanent Observer to the OAS since 2014.
With her visit, Minister Hasler also contributed to National Apprenticeship Week. A challenge for the American economy, and thus also for Liechtenstein companies operating in the US, is the high demand for a skilled work force. The Minister, who also serves as Minister of Education, used the occasion to present Liechtenstein's dual vocational training system, an important pillar of the domestic industry and service sectors. In Liechtenstein about half of high school students choose a career path involving training at private companies in a variety of sectors, while also continuing vocational training at school.
The Minister participated in an expert discussion on "Strengthening U.S.-European Cooperation on Apprenticeships" at the Wilson Center, together with representatives of the Liechtenstein companies Hilti, Ivoclar, Kaiser Premier, RiceTec and LGT Capital Partners. The Minister's remarks and full discussion can be viewed here:
In showcasing Liechtenstein's investment and support of US jobs, Minister Hasler traveled to Terre Haute, Indiana, where she visited the North American production plant of ThyssenKrupp Presta, a Liechtenstein company that produces steering systems for the automotive industry. Many domestic and foreign cars produced in the US have Liechtenstein steering components.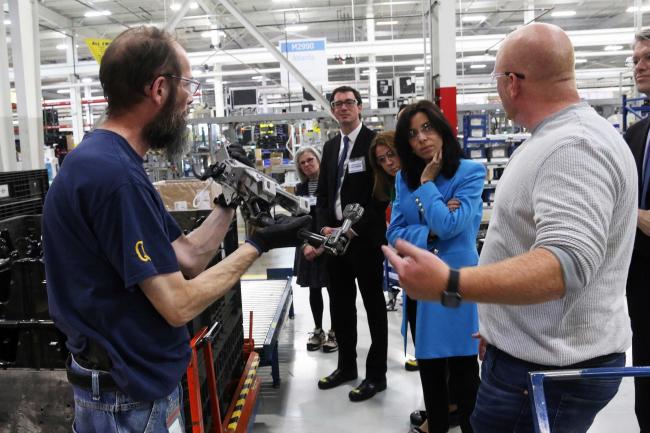 Minister Hasler also visited the Rose-Hulman Institute of Technology, which trains young people for careers in technical jobs. While in Indianapolis, she also met with the Lieutenant Governor of the State of Indiana, to discuss economic cooperation and investment.