Born and raised in Liechtenstein, Tina Weirather won the 2016-17 Alpine Skiing World Cup in the super-G for her home country, securing the title with a flawless performance in Aspen, Colorado on March 16.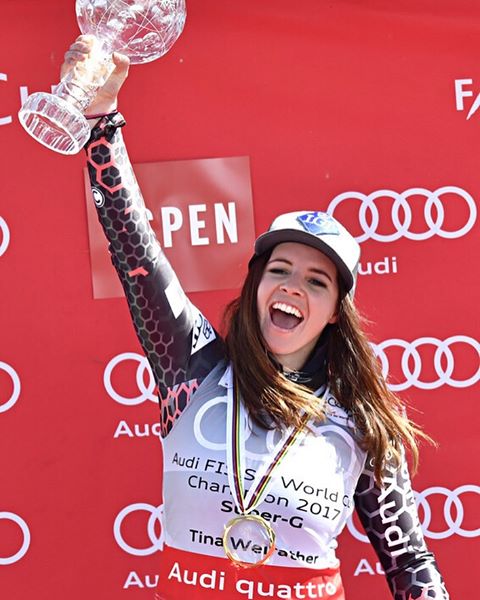 The World Cup season usually lasts from late October to March, and classifies skiers in five events, as well as an overall championship. The super-G (or super giant slalom) involves racers passing through a series of gates on their way down the slope, and is Weirather's specialty event.
This year, Weirather was able to reach the podium in three of the first six super-G events of the season, coming in second in Lake Louise, Canada and Val d'Isère, France in December and third in Garmisch, Germany in January. Nevertheless, she trailed Slovenian Ilka Štuhec by 15 points heading into the final event in Aspen. Weirather delivered a masterful run, however, beating Štuhec by 0.35 seconds and winning her first ever World Cup discipline title.
Weirather's win is the first for Liechtenstein since her uncle Andreas Wenzel's victory in the combined in 1985. She is the first Liechtensteiner to win the super-G, and the second woman from Liechtenstein to win a title, joining her mother, Hanni Wenzel, who won five discipline titles and two overall championships from 1972 to 1985. This included two gold medals (in Giant Slalom adn Slalom) at the 1980 Winter Olympics in Lake Placide, New York.
Born in Vaduz to Wenzel and Austrian skier Harti Weirather (who himself won a World Championship and a World Cup title in the downhill) in 1989, Weirather learned to ski competitively from a very young age. She now resides in Gamprin in Liechtenstein's Unterland.
Following her victory, Weirather called it her "biggest achievement yet." She had previously taken silver in the super-G at the 2017 Alpine World Ski Championships in St. Moritz, Switzerland in February, but said that "it's more important to win a globe than a medal, just because you need to perform more and you have to be strong throughout the whole season. That's what makes it so much more worth it for an athlete." The winner of a world cup event receives a crystal globe, while skiers compete to win medals at the world championships.
Weirather will attempt to defend her title when the next world cup season begins in Sölden, Austria in October. She will also seek to achieve success on an even bigger stage at the Winter Olympics in PyeongChang, South Korea in February of 2018, and to improve upon her silver at the next world championships in Åre, Norway in 2019. She has competed at three Olympic Games before, placing 33rd as a 16-year-old in the super-G in Turin, Italy in 2006, and pulling out because of injury in Vancouver in 2010 and Sochi, Russia in 2014.
In addition to Weirather, several other alpine skiers will try to earn a spot on Liechtenstein's Olympic squad. These include Fabian Buehler, Nico Gauer, Manuel Hug, and Marco Pfiffner. Each of these skiers has participated in official events hosted by the International Ski Federation, including Pfiffner who has raced in World Cup and World Championship events. The indisputable champion of the alpine skiing landscape in Liechtenstein is still Tina Weirather, however, who, at 27 years old, looks to be a leader of the nation's skiing hopes for years to come.