On October 23, Martin Frommelt became the first Liechtenstein artist to display his work at the National Gallery of Art (NGA) in Washington, D.C. NGA Curator Jonathan Bober was delighted to add Frommelt's Creation to the NGA's graphic collection. At the official unveiling, Bober described the series of etchings as an "extraordinary achievement in terms of monumental scale, brilliant technique, and heroic effort."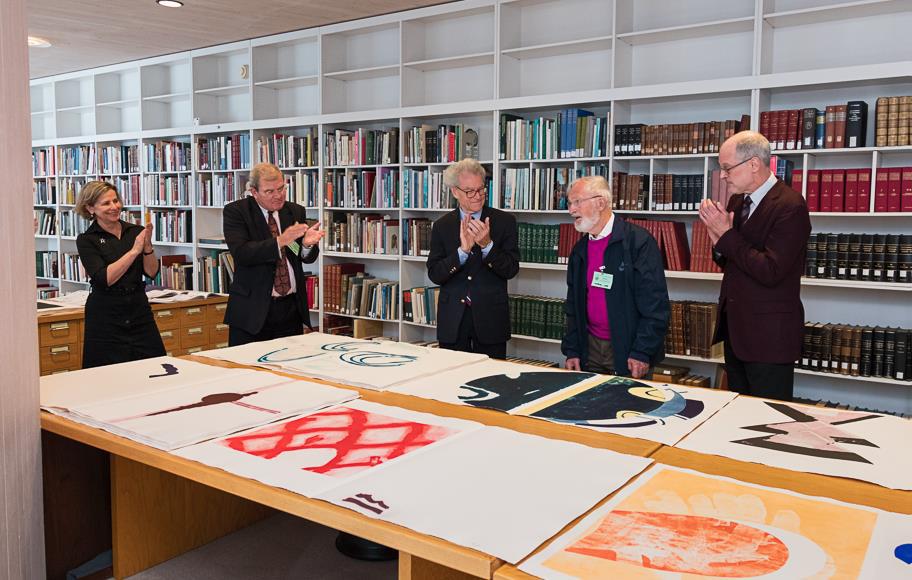 Furthermore, Bober labeled it as part of the "great tradition that leads from Koberger's Weltchronik, to the visionary series of Goya, Blake, and Picasso." The piece of art was donated by the Liechtenstein Binding Foundation. Peter Kaiser, Chairman of the foundation, was excited to have supported its realization, seeing its significance acknowledged by entering the NGA's collection.
Martin Frommelt has dedicated more than 10 years to the development of Creation – Five Constellations on Genesis. The color etching cycle consists of 214 parts on 107 sheets. It is an "all-encompassing overview of the forms of our natural environment and the visual cosmological structures, which he presents free of artistic mannerisms."
Frommelt studied art at the Ecole des Beaux-Arts in Paris. After completing his studies, he and a group of fellow artists formed an artists' circle in Paris. Their main focus was the integration of art into architecture and into the public space. In 1962 he returned to Liechtenstein and opened a personal studio. Frommelt's wide-ranging work can be seen in the international collections of the Albertina in Vienna, the Kunsthaus in Zurich, the Museum Kolumba in Cologne, and the Liechtenstein Art Museum.
At the official unveiling at the NGA, Ambassador Jaeger expressed Liechtenstein's honor to see an important piece of work from a local artist to come into the possession of such a prestigious American institution. Furthermore, he outlined Liechtenstein's vibrant cultural scene, where he highlighted his country's 20 cultural institutions, more than a dozen museums, a music school with more than 2,600 students, an international music academy, two symphony orchestras, 40 music bands and even 36 choirs - and that's for a population of only 38,000 people.