On September 18 the think tank Women in International Security (WIIS) and the Embassy of Liechtenstein launched a roundtable series on security and gender challenges. The Gender, Peace, and Security series provides a forum for bringing together a diverse group of experts and policymakers to advance gender considerations in security policy discussions. At the first event, panelists examined the role of gender in traditional security challenges such as terrorism and armed conflict, as well as non-traditional, human security issues such as human rights and climate change in Kenya and the Horn of Africa.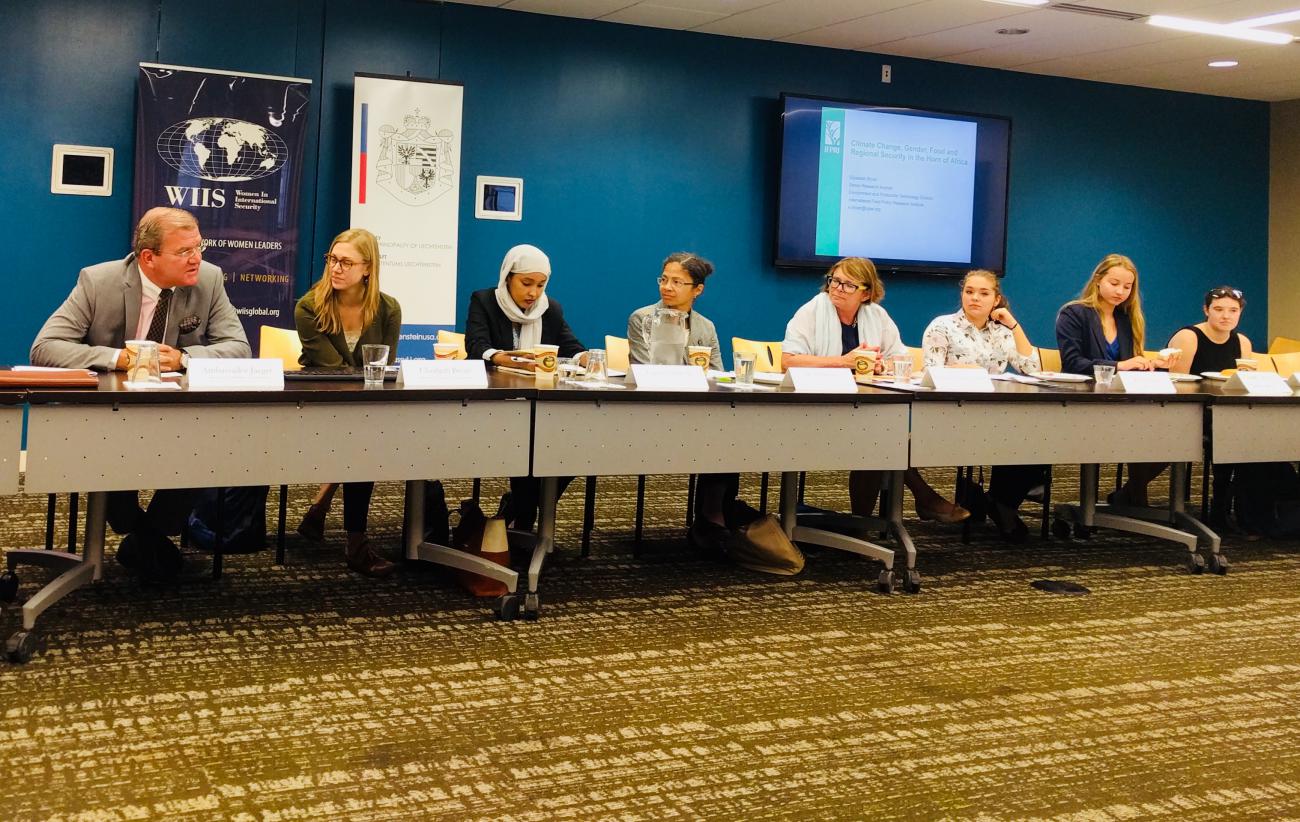 The roundtable was moderated by Dr. Chantal de Jonge Oudraat, President of WIIS Global, and featured Fauziya Abdi Ali, Founder and President of WIIS Kenya and Chair of Sisters without Borders; Elizabeth Bryan, Senior Research Analyst, International Food Policy Research Institute; and Dr. Dorina Bekoe, Associate Professor, Conflict Prevention, Mitigation, and Resolution, Africa Center for Strategic Studies, National Defense University. Ambassador Kurt Jaeger gave welcome remarks, underlining the importance of the issue.
The experts outlined that women in the Horn of Africa are affected by security challenges in a different way – be it violent extremism, climate change, or electoral violence. Women face displacement, disempowerment, and gender-based violence and constraints by harmful social norms. Thus, the gender dimension has to be taken into account when tackling these issues, while also focusing on prevention and working with communities.
Liechtenstein's foreign policy has placed a great emphasis on human rights and international humanitarian law, including WPS issues as outlined in Liechtenstein's Commitment to Women, Peace, and Security (WPS). Liechtenstein has implemented Security Council Resolution 1325, as well as Security Council Resolution 2242 which mandates improvements of the implementation of the UN Security Council's WPS Agenda and that it be included in the Security Council's Counterterrorism agenda.
WIIS and the Embassy of Liechtenstein will continue the event series in 2018 and will host four more events on different aspects of gender, peace, and security.