Monday, October 31, 2022
From October 25-26 Ambassador Georg Sparber visited Missouri where he toured the operations of Major Custom Cable which was recently acquired by the Liechtenstein company Neutrik.
Neutrik is global leader in designing, manufacturing and marketing of professional connector products like audio, video, digital, and fiber optics, among many other items. Their products are known throughout the entertainment industry, supplying products to major concert venues and television stations. In fact, much of the US Congress is outfitted with Neutrik connectors. The next time you view the President's State of the Union Address or watch a Congressional hearing, that video and audio is coming to your via Neutrik connections.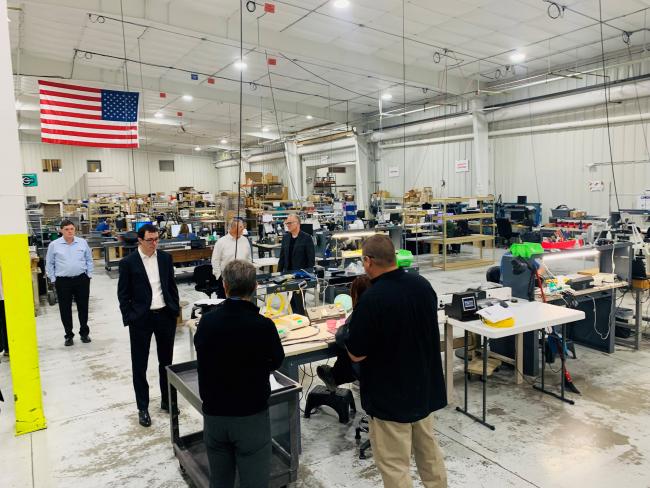 In December of 2021, Neutrik acquired Major Custom Cable (MCC) based in Jackson, Missouri. Major Custom Cable is a manufacturer of data and communication cables, with over 50,000 square feet of manufacturing and warehousing space, the company offers a wide range of customized products for the communications and IT industries. The acquisition supports over 75 local manufacturing jobs. Founded in 1990, MCC has grown into one of the premier manufacturers of data and communication cables in the US. Their cable solutions can be found in the International Space Station to the large data centers powering social media giants.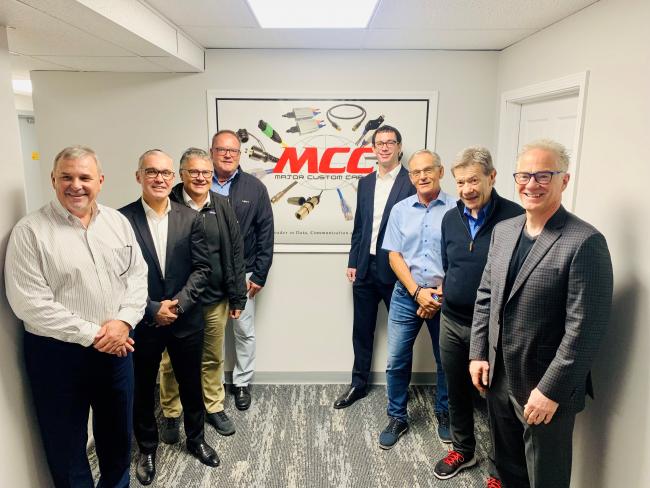 From left: Scott Wachter, MCC General Manager; Chad Trevithick, Neutrik CEO; Georg Wohlwend, Neutrik Supervisory Board Member; Urs Sprenger, Neutrik Supervisory Board; Ambassador Georg Sparber; Marcel Gstöhl, Neutrik Supervisory Board; Urs Tanner, Neutrik Supervisory Board; and Peter Milbery, President, Neutrik USA.
Ambassador Sparber's visit was an opportunity to meet with the leadership of both MCC and Neturik. Neutrik CEO Chad Trevithick, and Neutrik USA President Peter Milbery, were joined by Members of Neutrik's Supervisory Board along with MCC's leadership including Scott Wachter, MCC's General Manager.