Embassy of Liechtenstein e-Newsletter, Summer 2017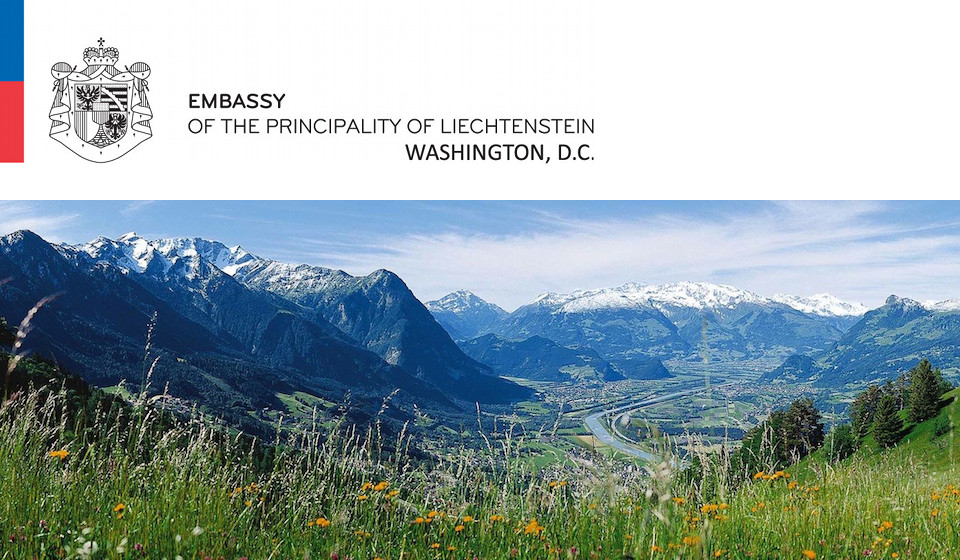 | | |
| --- | --- |
| Embassy of Liechtenstein e-Newsletter | Summer 2017 |
Celebrating Liechtenstein's National Day on August 15!

August 15 is Liechtenstein's National Day. On our national holiday everyone meets in Vaduz – for the school children returning to school after the summer break it's the first time to see their friends again, and for the "older generations" it has become a tradition to watch the fireworks that traditionally take place at 10pm. The day begins with an official act of state on the...





Ambassador Jaeger Visits Texas

May 8-9 Ambassador Jaeger visited two Liechtenstein companies that have their North American Headquarters based in Texas, namely Hilti, a maker of drilling and fastening tools for the construction industry, and RiceTec, a producer of hybrid rice seed. Ambassador Kurt Jaeger with Hilti President and CEO for North America Avi Kahn. Ambassador Jaeger's visit started off in Plano,...





Liechtenstein's Kaiser AG Acquires American Premier Manufacturing

In June the Liechtenstein industrial company Kaiser AG bought 100% of Premier Oilfield Equipment, a US manufacturer of hydrovac vehicles. The manufacturer, based in Fort Morgan, Colorado, has historically produced specialty tanks, vacuum trailers, and hydro-excavators to the oil and gas industry. From left: Kaiser AG CEO Markus Kaiser and Kaiser Premier CEO Dan Weber. Markus...





Liechtenstein Signs BEPS Convention

On June 7th, 2017, Liechtenstein signed the Multilateral Convention to Implement Tax Treaty Related Measures to Prevent Base Erosion and Profit Shifting (BEPS) by large international corporations. Liechtenstein is one of 76 states and territories which has accepted or signed the convention. The Multilateral Instrument (MLI) is the product of efforts by the Organization for Economic...





Liechtenstein Ratifies Paris Climate Accord

On June 9 th , 2017, Liechtenstein's parliament ratified the Paris Climate Accord signed on December 12 th , 2015 by 175 countries. The agreement seeks to limit CO2 emissions in order to fight against global warming. Heads of State meet in Paris on December 12, 2015 to sign the Paris Climate Accord. Liechtenstein has agreed to cut emissions by 40% based on 1990 levels and will...





Ticketless Public Transportation in Liechtenstein

Can you imagine hopping on and off any train or bus without needing to buy a ticket? Now that is becoming a possibility in Liechtenstein and Switzerland. Gian-Mattia Schucan invented the Fairtiq app, an innovative alternative to the traditional train/bus ticket. How does it work? Essentially, there are sensors on trains that record a passenger's entry and exit via his/her smartphone....





DC Fifth Graders Visit The Embassy of Liechtenstein

On May 31 st , 2017, a fifth-grade class from Eaton Elementary in Washington,DC visited the Embassy. The class had been paired with Liechtenstein through the Embassy Adoption Program (EAP) since November of 2016. The EAP is a global education program that links fifth and sixth grade classes with embassies and other global entities to provide DC Public School students with a unique...





Liechtenstein Participates in the 2017 Small States Games

From May 29 th to June 3 rd , the 18 th biennial multi-sport event, the Games of the Small States of Europe , took place in San Marino. Competing members included Andorra, Cyprus, Iceland, Liechtenstein, Luxemburg, Malta, Monaco, Montenegro, and San Marino. The sporting events consisted of archery, athletics, basketball, boules, cycling, judo, shooting, swimming, table tennis, tennis, and...




Forward to a friend

Copyright © 2017 Embassy of Liechtenstein

Click here to unsubscribe