Embassy of Liechtenstein e-Newsletter, Spring 2016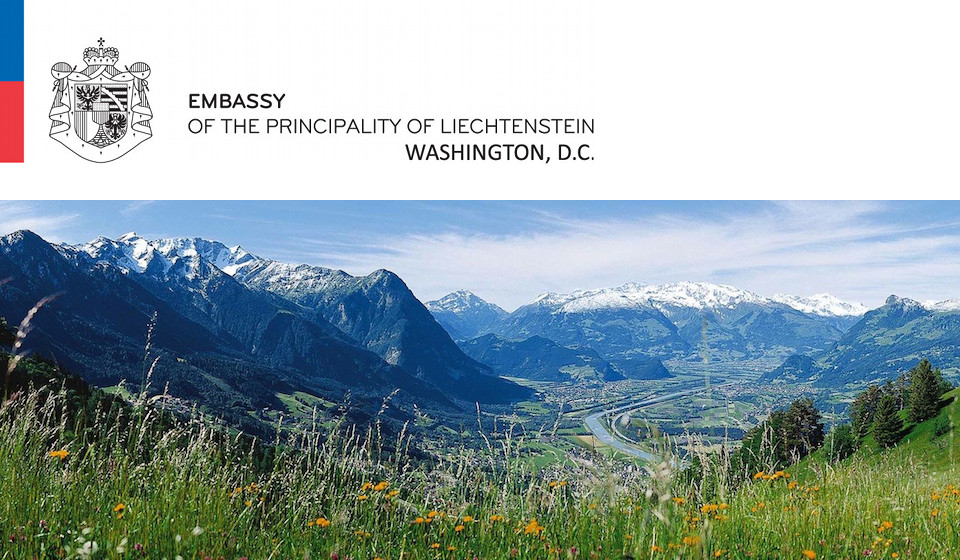 | | |
| --- | --- |
| Embassy of Liechtenstein e-Newsletter | Spring 2016 |
Foreign Minister Aurelia Frick Visits Washington

On March 17 Foreign Minister Aurelia Frick visited Washington for meetings focused on Liechtenstein-US relations as well as on broadening Liechtenstein's partnership in the Americas. Foreign Minister Frick met with Bruce Andrews, Deputy Secretary of the US Department of Commerce. They discussed Liechtenstein-US trade and commerce and how it plays an important role in the transatlantic...





Foreign Minister Frick Meets with MA Governor Baker, Opens Honorary Consulate in Boston

On March 18 Foreign Minister Aurelia Frick, accompanied by Ambassador Claudia Fritsche, visited Boston as part of Liechtenstein's interest in widening its engagement and outreach in the US. During her visit, Minister Frick met with the Governor of Massachusetts, Charlie Baker. Their talks focused on Liechtenstein's economic presence in the US including Massachusetts. Foreign Minister...





Embassy of Liechtenstein and WIIS Co-Host Event on Terrorism, Women, and Violent Extremism

The Embassy of Liechtenstein, in collaboration with Women in International Security ( WIIS ), hosted a roundtable discussion on "Terrorism, Women, and Violent Extremism" on March 21. The event took place at the Carnegie Endowment for International Peace in Washington, DC. This was the first of five events of a series sponsored by the Liechtenstein Government. Dr. Chantal de Jonge Oudraat,...





Liechtenstein Receives S&P AAA Rating

At the end of February the international rating company Standard & Poor's, based in Frankfurt, Germany, announced its AAA-Rating for Liechtenstein. According to its report the agency concluded that Liechtenstein "will be able to cope with complex regulatory challenges in the coming years, while maintaining high wealth levels and debt-free public accounts." The report...





Students from Liechtenstein Music Academy Attend Leadership Seminar in DC

Five students of the International Music Academy Liechtenstein (IMAL) attended a leadership seminar in Washington, DC from March 13 – 21. They traveled to the US upon the generous invitation by Dr. Ryuji Ueno, founder of the Ryuji Ueno Foundation, which hosted and sponsored this unique program. It aimed to enhance their skills at being a professional performing artist, focusing on the United...





High School Student Groups Visit the Embassy of Liechtenstein

In February Ambassador Claudia Fritsche received two groups of US high school students. The students were given a presentation by Embassy staff on the history of Liechtenstein as well as about its economy, form of government, foreign policy and culture. Students then met with Ambassador Fritsche for a discussion. On February 11 a group from the International School of the Americas in San...





Tina Weirather - Liechtenstein's Skiing Ace

Christina "Tina" Weirather is currently the most successful ski racer from Liechtenstein. The 26-year-old alpine skier, focusing on the disciplines of downhill, super-G, and giant slalom, had a successful 2015/2016 winter season. She got first place in St. Moritz, Switzerland (March 17, super-G) and in LaThuile, Italy (February 21, super-G). She got second place in Cortina d'Ampezzo,...





Visit Liechtenstein This Summer! Award-Winning Hotels and Special Events

According to almost 36'000 hotel reviews, the Park-Hotel Sonnenhof in Vaduz has been ranked no. 1 in the region "East Switzerland and Liechtenstein." The hotel located in Vaduz offers 29 uniquely furnished rooms, as well as the Restaurant Marée with One Michelin star and 16 Gault Millau points and several other awards. The view from the terrace of the Park-Hotel Sonnenhof...




Forward to a friend

Copyright © 2016 Embassy of Liechtenstein

Click here to unsubscribe