Embassy of Liechtenstein e-Newsletter, Fall Recap 2019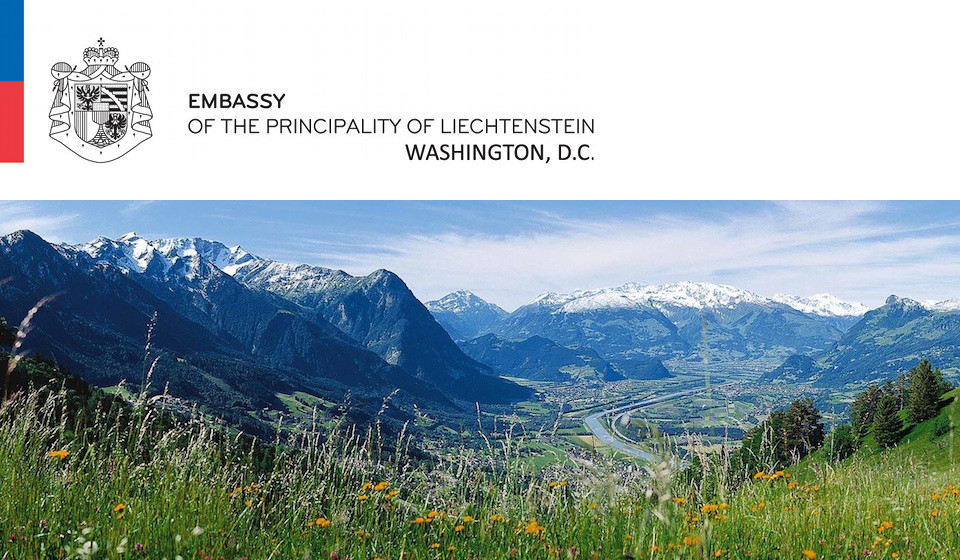 | | |
| --- | --- |
| Embassy of Liechtenstein e-Newsletter | Fall Recap 2019 |
Happy Holidays from the Embassy of Liechtenstein!

As the year comes to a close, all of us at the Embassy of Liechtenstein are very thankful for everyone who has supported our mission either directly or just with your continued interest in our country and Liechtenstein-US relations. We have had a wonderful 2019 celebrating Liechtenstein's tricentennial with our many friends and colleagues throughout the US. As we enter the new decade, we wish you all the happiest of holidays and a successful 2020!





Hereditary Prince Alois Visits Washington

On September 26 and 27 H.S.H. Hereditary Prince Alois of Liechtenstein visited Washington, DC. The visit served as an opportunity to promote Liechtenstein's international initiatives, its unique integration with the European Union, while also celebrating strong Liechtenstein-US relations during Liechtenstein's tricentennial year.





President Trump Congratulates Liechtenstein on its Tricentennial

On October 2, US Ambassador to Liechtenstein and Switzerland, Edward McMullen, hosted a reception in Vaduz celebrating US-Liechtenstein relations. As a highlight of the occasion, Ambassador McMullen presented H.S.H. Hereditary Prince Alois of Liechtenstein a letter signed by US President Donald Trump congratulating Liechtenstein on its 300th anniversary. A description of the event can be found on the website of the US Embassy in Bern.





Liechtenstein Chamber of Commerce and Industry Visits Washington

On December 10 and 11 a delegation representing the Liechtenstein Chamber of Commerce and Industry (LCCI) visited Washington to highlight Liechtenstein economic footprint in the United States. The group consisted of Klaus Risch, LCCI President and Trustee of the Martin Hilti Family Trust which owns the Hilti Corporation; H.S.H.





Liechtenstein Initiative Launches Finance Against Slavery and Trafficking (FAST)

On September 27, the Liechtenstein Initiative for a Financial Sector Commission on Modern Slavery and Human Trafficking released its final report titled Unlocking Potential: A Blueprint for Mobilizing Finance Against Slavery and Trafficking.





WIIS and Embassy of Liechtenstein Co-Host Discussion with Former NATO Deputy Secretary General Rose Gottemoeller

On December 5, 2019, Women In International Security (WIIS) and the Embassy of Liechtenstein hosted former NATO Deputy Secretary General Rose Gottemoeller. In his opening remarks, Ambassador Kurt Jaeger affirmed the value of gender perspectives in security conversations and the importance of global cooperation.

 





Liechtenstein's Parliament Approves Blockchain Act Unanimously

On October 3, the Liechtenstein Parliament passed the Token and Trusted Technology Service Provider Act (TVTG) - in the past known as the "Blockchain Act." This means that the law can enter into force on January 1, 2020.





A US Concert Tour to Celebrate 300 Years of Liechtenstein

The celebration of Liechtenstein's tricentennial continued in the month of September by highlighting its commitment to the arts and its diverse culture.





Time Magazine Lists Liechtenstein As One of Its "Greatest Places 2019"

In September, Time Magazine came out with its list of "Greatest Places 2019 - 100 Destinations to Experience Right Now" and chose Liechtenstein as one of its top destinations. In featuring Liechtenstein, Time Magazine highlighted the Liechtenstein Trail which opened in May of 2019. 




Forward to a friend

Copyright © 2019 Embassy of Liechtenstein

Click here to unsubscribe