On June 20 Liechtenstein's eight Honorary Consuls visited Liechtenstein. The trip was part of a biennial visit by members of Liechtenstein's Honorary Consular network to become briefed on the country's affairs. Liechtenstein has honorary consulates in cities in Germany, China, and the US, which focus on raising awareness about Liechtenstein and expanding the country's outreach and cooperation in their respective regions, as well as promote economic, cultural, and political exchange with the host countries.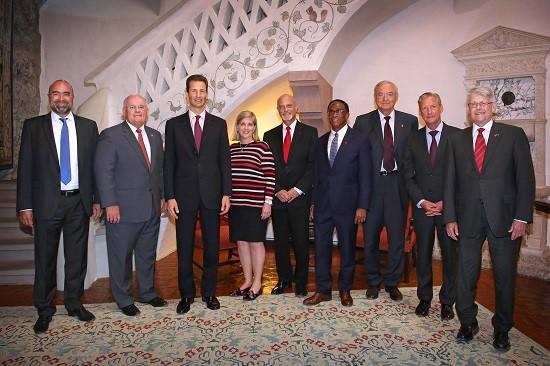 Liechtenstein's upcoming celebration of its 300th anniversary was the focal point of the trip. Michelle Kranz, Managing Director of Liechtenstein Marketing, briefed the group on the planned celebratory events. They also discussed ways the Honorary Consuls can publicize this special occasion in their host countries. The group also met with Mario Gassner, CEO of the Liechtenstein Financial Market Authority, to discuss the latest on financial regulatory matters.
At a dinner hosted by Foreign Minister Aurelia Frick the group was given an overview of Liechtenstein's foreign policy initiatives. Minister Frick also expressed her gratitude and appreciation for the Honorary Consuls' efforts in advancing Liechtenstein's engagement in their respective regions.
The Consuls gained insight into the innovative and diverse nature of Liechtenstein's economy by visiting two businesses. They visited the company Intamin Amusement Rides, which engineers many of the roller coasters, water rides, free falls and other rides found at amusement parks around the world. The group also visited Demmel Kaffee, a local coffee roaster who has won numerous local and European awards for its high-quality coffee.
The visit also served as an opportunity for the Honorary Consuls to report on the experiences in their countries and regions of residence as to their efforts to represent Liechtenstein and plans for the future.
A highlight of the Honorary Consuls' trip was their visit to Vaduz castle, where they met with H.S.H. Hereditary Prince Alois of Liechtenstein.