On May 17 Events DC hosted the 10th annual Embassy Chef Challenge at the Ronald Reagan Building International Trade Center. 28 countries participated showcasing the unique flavors of their home. The challenge, which included various awards for best dish and best beverage, among others, highlighted cultural diplomacy through the celebration of food, drinks, dance, music and fashion from around the globe. Event attendees had the unique opportunity to sample flavors from multiple continents all in one-place. In addition, embassies served a diverse selection of native cocktails, beer, and wine as well as desserts throughout the evening.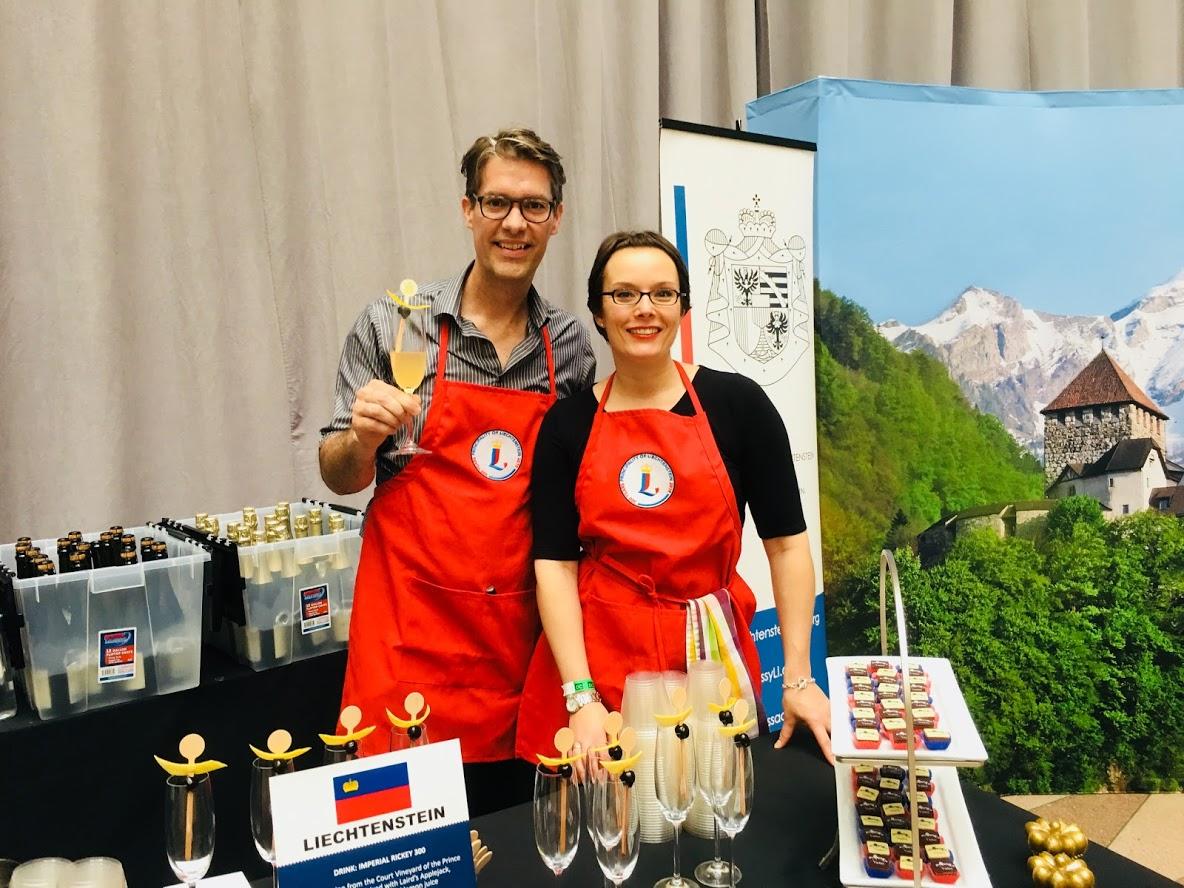 As the Embassy of Liechtenstein does not employ a full-time chef, it participated in the Embassy Chef Challenge by offering hand-made chocolates produced in Liechtenstein by the chocolatier Dolce based in Vaduz. The Embassy also offered a cocktail to commemorate its coming tricentennial in 2019. Called the Imperial Rickey 300, the cocktail was created to celebrate Liechtenstein's 300 years of existence, which it will celebrate in 2019. In 1719 Liechtenstein was elevated by the Emperor of the Holy Roman Empire to become the Imperial Principality of Liechtenstein. Its same borders remain in existence today.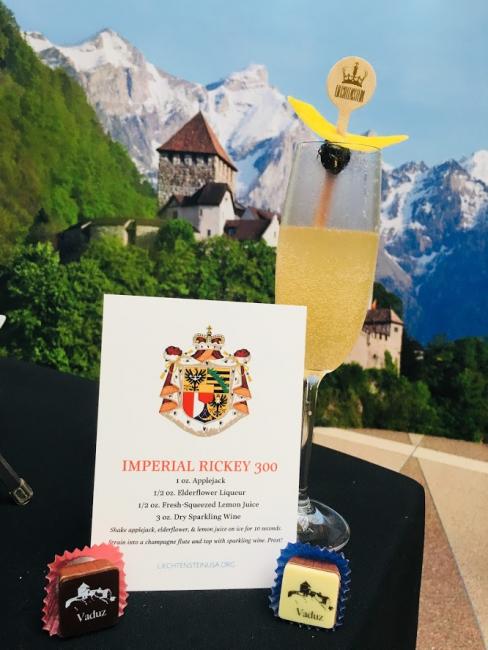 The cocktail's uniqueness to Liechtenstein lies in its use of sparkling wine from the vineyards of the Liechtenstein Princely Family, which were established in 1436. The cocktail also incorporates elderflower liqueur, bringing a taste of the Liechtenstein Alps, where elderflowers grow wild. The cocktail's main spirit is Applejack, an American apple whiskey. It is symbolic of similarities to Liechtenstein's and America's distilling heritage. Prior to the production of other distilled spirits and fermented beverages, both countries drank mostly fermented apple cider. Distilled, apple cider becomes what is known as applejack in the US and Obstler in Liechtenstein. Designating the cocktail as a Rickey is paying homage to the Embassy's host city of Washington, DC. The official cocktail of the District of Columbia is the Rickey, which is typically gin or bourbon with lime juice and sparkling mineral water. The Imperial Rickey 300 is a creative interpretation of the Rickey, taking many of the same elements and giving them a unique Liechtenstein twist.
Recipe: Imperial Rickey 300 (1 Serving)
1 ounce Applejack
1/2 ounce Elderflower Liqueur
1/2 ounce Fresh-Squeezed Lemon Juice
3 ounces Dry Sparkling Wine
Shake applejack, elderflower, and lemon juice on ice for 10 seconds. Strain into a champagne flute and top with sparkling wine. Prost!